The reason many jewelers are selling lower priced merchandise today is because the middle class has less money to spend!
I believe our new 'Affluent Jewelry Program' offers a low-cost and highly targeted approach to acquiring new customers in your trade area that have the money and disposable income to buy higher-priced jewelry. To find out more click here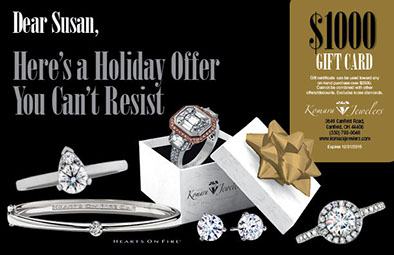 Target new prospects based on the cars they buy. Jewelers that wish to target more affluent consumers can partner with BMW, Lexus, Mercedez Benz, Jaguar, etc. To find out more click here
Click to view more samples
The 'Restaurant Perk' is a year- round marketing tool that can provide a steady flow of new customers into a jeweler's store by partnering with local restaurants.
To find out more click here
Looking for Millennials that will soon be looking for an engagement ring?
Gyms and athletic clubs are filled with young men and women that are looking to get hooked up. Your local athletic club will be thrilled to distribute your promotional plastic card with the Gym's special offer to their members before a special occasion or through out the year.
Imagine a realtor who sells a new home helps promote your store and provides a third party endorsement with your own mini-folder or booklet presentation and it looks like they paid for it.
Hair Salons are a great place to target women and represent ideal cross promotion partners for jewelers.
Nail salons love partnering with jewelers since jewelry is a perfect fit and a great conversation piece.
954-817-3911 • EXCEPTIONAL PRICING • 48-72 HOUR TURNAROUND • LOW-LOW MINIMUMS