Click here or image to see catalog
Plastic Postcards:Porte Plastic Postcards with detachable gift card offer
Jewelers can now dominate the mailbox with a high impact, memorable and interactive direct mail piece that delivers their message from mailbox-to-mind at the speed of sight.
Plastic postcards offer jewelers a measurable, trackable, and cost-effective postcard mailer that is unlike any other gift card or special offer direct mail piece on the market. The full color 8.5" x 5.5" postcard-size mailer printed on a high-gloss plastic material that mimics the feel of a credit card.
To view more samples click here
Communicating the services that you offer can be a daunting task.  Never assume that your customers  know what services you provide.
Luring a customer or new prospects into your store by advertising a $5000 piece of jewelry may have worked ten years ago, but in today's challenging economy, your jewelry repair services provide much better bait!
To view more samples click here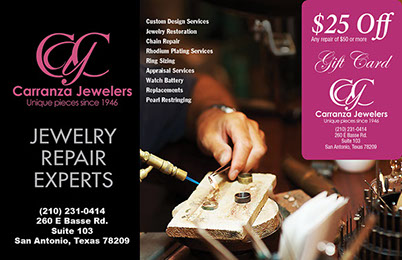 Whether you are interested in procuring and buying estate collections or wish to sell estate jewelry, this category certainly has a specific buyer.
Unfortunately, most consumers know little about estate and antique jewelry but positioning yourself as a player and expert can help position your store as the place to go.
To view more samples click here
Trunk shows can provide your customers with a way to view more of a designer's or manufacturer's complete line. Personal appearances by the designer can create a stronger bond to the brand and can create
life-long collectors.
The more you support the event and make it special the greater the turnout you will have with your customers.
To view more samples click here
Bridal lists are available and can provide you with the names and addresses of couples and the date they are getting betrothed.
While you might be late on selling these soon-to-be-wed couples their engagement rings, targeting these prospects with wedding bands will prove to be most timely.
You can hook up with The Knot to get these names, local bridal magazines and bridal shows to get to these consumers.
To view more samples click here
Store Anniversaries are a way to thank your customers for their support and business over the years.
If it were not for you, there would be no us 'philosophy'.
To view more samples click here