While a few good clients are happy to refer their friends and want nothing in return (well, maybe a phone call thanking them), most customers need to be encouraged, incentivized and reminded.
Below: 4" x 8" plastic personalized postcard mailer with two detachable gift cards (same thickness as a credit card): One for your customer and one for your customer to give to their friend or colleague.
Use as an in-store handout or mail to your best customers!
Every plastic card is personalized with the jewelry, colors, copy, exclusions and gift card values you wish to offer.
Every jeweler says the same thing: 'The easiest, most enjoyable and often biggest sale you can make is from a customer referral, but the 'HUGE' question is how do you get more, more often.'
The Porte Referral Program is ideal for getting new customers in your store in July and August as well as getting customers and new referrals during the Holiday Season. You either grow or die! I guarantee this proactive referral strategy will grow your business. Call me at 954-817-3911 or email me at portemarketing@gmail.com for more information.
Customer Referrals Skyrocket
for Proactive Jewelers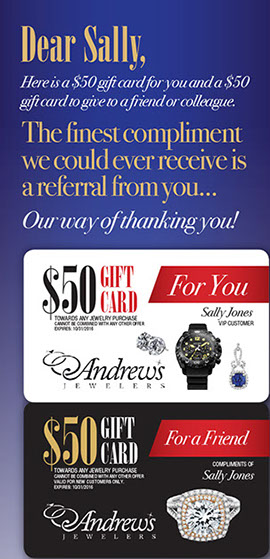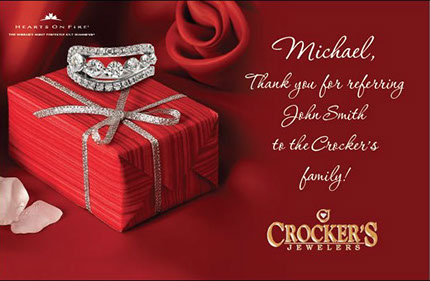 ABOUT US
BACK TO HOMEPAGE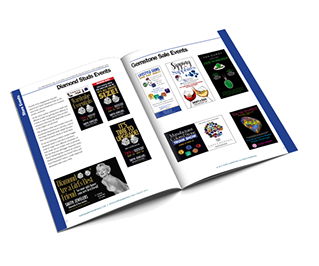 Target customers by their purchase history and/or buying frequency:
Porte Marketing can mail to your entire customer list or you can target specific customers with varying gift card denominations.
For example, you can target your top 250 customers with a $100 gift card and a $100 gift card to give their friends, family and colleagues. You can also target customers that buy frequently with a $50 gift card offer and a $50 gift card for their relative, friend or colleague.
If you have some really big customers that spend a lot of money, send them a $250 gift card for them and a friend. You decide!
Tracking:
As you can see below, the gift card that is given to the friend is personalized with your customer's name so you can track where every referral comes from.
Exclusions: We can include any exclusions you want on the gift card...Valid for New Customers Only and the exclusions can include: Excludes Pandora, Rolex, repairs, services and cannot be combined with other offers, etc.
II. How to Turbo Charge Bridal Referrals:
After you sell a millennial bridal consumer an engagement ring, wedding band or both, chances are you won't be selling the couple any big ticket items in the near term; unless of course, they have a wealthy family, inherit money, receive a dowry, land a great job or are on the fast track to earning big bucks?
It's simple, their future will be laden with: Paying off the ring they bought on credit, college tuition, saving money to buy a house, having children and rising health insurance premiums. Thus, not a lot left over to buy more jewelry!
The biggest benefit your new millennial bridal customer can provide you is that they tell all their friends about your store.
I. Incentivizing customers to tell their friends about their bridal purchase from your store
After the sale, Gene De Robertis, owner of De Robertis Jewelers in West Hartford, gives the buyer or couple a Thank You receipt holder that includes (3) $75 gift cards to hand out to friends of the engaged couple, who probably will soon be looking for an engagement ring in the not-to-distant future. Each time a new customer comes to use their $75 gift certificate, the referring couple will also receive a $75 credit, that can easily add up to $225 to spend on jewelry.
III. Automate Your Customer
Referral Process
Most jewelers tell me they would like to acknowledge and thank their customer when a referral makes a purchase, but unfortunately the daily demands of the business and wearing 14 different hats makes following up a daunting task.
Don't have time to follow up with customer referrals? Now you do!
We can automate your custom referrals in email or print. Just upload your daily, weekly or monthly customer referrals to our secure site, and a personalized postcard, email, or both will be sent to your customer thanking them for the referral.
Cost: 5.5" x 8.5" postcard: $.77 each (includes 1st class postage)
NO MINIMUMS
4" x 6" postcard: $.55 (includes 1st class postage)
NO MINIMUMS
Back of card has your special offer: Starbucks gift card, glass a wine at a particular restaurant, Mani/Pedi, or just a gift card amount. We will design and customize to suit your needs.